TEMATYS (www.tematys.com) is an independent SME dedicated to studies, strategy and outsourced commercialization in Optics, Photonics, Sensors, Imaging, Lighting, materials engineering and their application markets. The company has developed a special expertise in R&D valorisation, marketing and commercialization of emerging technologies coming from Research Organizations, but also from private industrial groups, SME and start-ups.
More than 180 clients in 18 countries.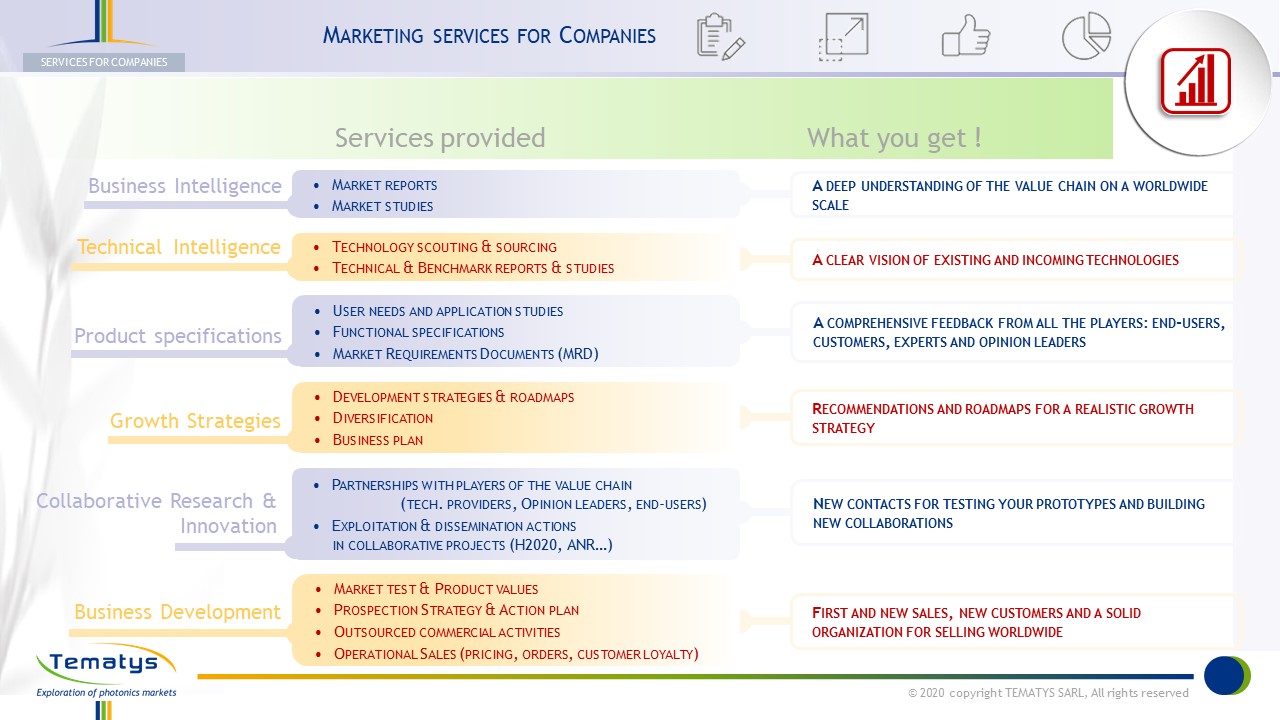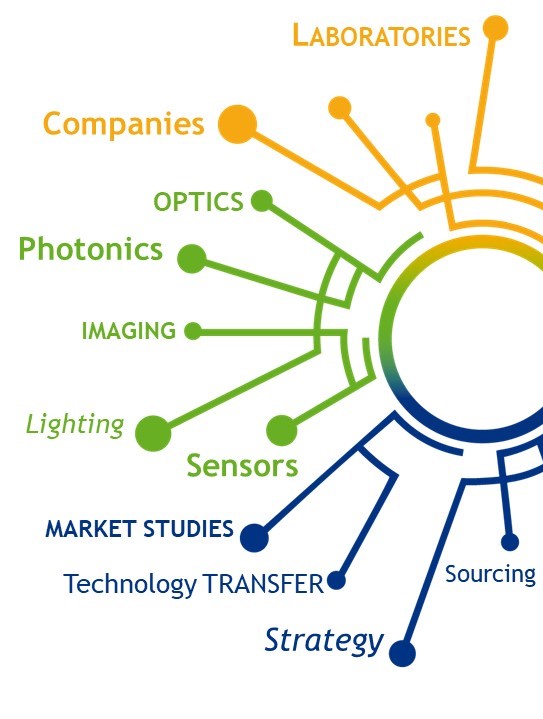 Super resolution microscopy, time resolved, low costs advanced microscopy studies: Bioaxial, ESPCI, Aurea Technologies, CEA, University of Lyon…
Studies on Biosensors SPR, SERS, Terahertz (Institut Fresnel, UTT, NovumWaves)
Imagerie and sensing in the UV (Microscopy, Fluorescence) (GPPMM, XLIM)
Sourcing study for phenotyping by optical method
CNRS : strategy and business plan of several academic platforms in the field of fundamental biology and pharmacology
Market report on biophotonic technologies and many articles in the press
AIR LIQUIDE – Amplitude systèmes – AZBIL Corp. (JP) – BAUMER Optronic GmbH – CANON (JP) –CILAS – COHERENT, Inc. (US) – DIEHL Group (DE) – Emerson/Cascade (UK) – ESSILOR – Groupe MAQUET – HORIBA Jobin Yvon – INFINEON Technologies (DE) – LEICA Microsystems (DE) – NIKON Corp. (JP) – OSRAM (DE) – QUANTEL – Robert BOSCH (DE) – SAFRAN/Sagem – SEIKO/Epson (JP) – SCHOTT (DE) – SCREEN Holging (JP) – SIEMENS (DE) – SONY Corp. (JP) – SORIN Group – Sumitomo Electric Industries, Ltd. (JP) – Teledyne Dalsa (CA) – THALES – TOPPAN Photomasks Inc. – TOSHIBA Corp (JP) – TOYO Corp. (JP) – VALEO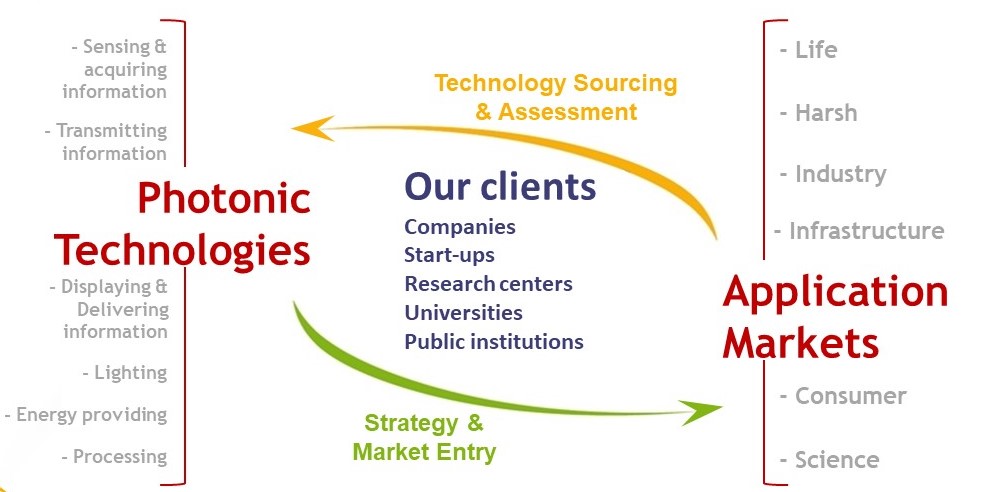 Related projects and publications :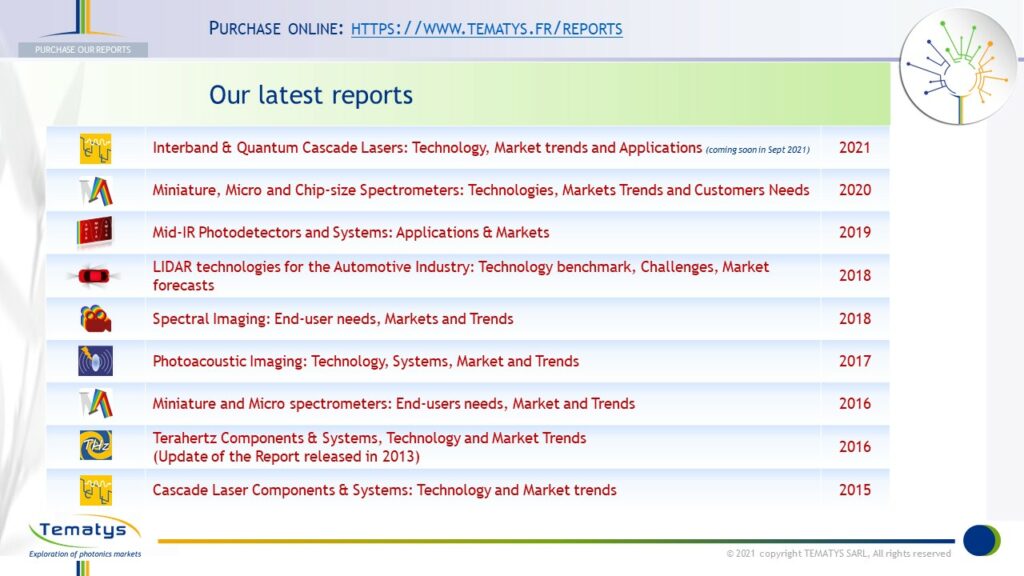 Tematys is involved in 4 H2020 projects including 1 FET OPEN and 1 FET OPEN Launchpad: MIRPHAB (Pilot line) MIR-BOSE (FET-OPEN), MULTIPLE, NANOXIM (FET Launchpad).
LIST OF 5 PUBLICATIONS.
Spectral imaging spreads into new industrial and on-field applications, C. Bouyé, B. d'Humières, Proc. SPIE 10539, Photonic Instrumentation Engineering V, 1053918
Miniature and micro spectrometers market: who is going to catch the value?, C. Bouyé, B. d'Humières, Proc. SPIE 10110, Photonic Instrumentation Engineering IV, 101101P
C. Bouyé, C. Lee, "Collaboration advances intraoperative assessment of tumor margins" BioPhotonics, Dec. 2014, p. 33-35
J. Cochard, B. Roussel, C. Lee. ''The four segments of biophotonics market growth''. BioOpticsWorld, September/October 2013, p.46-47.
Thierry Robin, Jacques Cochard and Frédéric Breussin. "Biophotonics: a European perspective". Proc. SPIE 8570, Frontiers in Biological Detection: From Nanosensors to Systems V, 85700C, March 2013.
C. Bouyé, B. d'Humières, "Drivers of the OCT market growth in healthcare applications", SPIE BiOS 2015, February 8th, 2015.
Photoacoustic imaging: technology, systems and market trends, Marc Faucheux; Benoît d'Humières; Jacques Cochard, Proc. SPIE 10064, Photons Plus Ultrasound: Imaging and Sensing 2017, 100643D